Indie Author Spotlight: M. J. Fifield
Posted on March 25th, 2016
Here at Lemorn, what we care about most is seeing books in the hands of readers. Writing is not a competition, authors should celebrate each other! To that end, we have started an author spotlight series. First up, M. J. Fifield
Mirintala interviews M. J. Fifield
I cornered author M.J. Fifield for an interview out in the Interweb to bring you a bit of information about the author, and her works.
The Writer
Let's start out with a simple question. M.J. Fifield, what is your favourite colour? Is it purple? I see you like purple pens. Purple is a good choice.
I do love purple, but I think my favorite color just might be cobolt blue. It feels like a color you could get lost in. My favorite pens are purple, though. The Pilot Precise V5RT is at the top of my purple pen list. Because I'm a weirdo who has a list of my favorite writing utensils. I must be a writer.
Have you always known you would be a writer?
No. I started writing at a young age and never stopped, but I was convinced I would be a photographer, or an opera singer, or an actress, a computer programer, a teacher—a butcher, a baker, a candlestick maker—You know, pretty much anything other than a writer. It wasn't until I was about five years through a six-year college career that I finally came to that conclusion.
What's the first story you remember writing?
I know there were stories that came before it, but an early creation of which I have a strong memory was the murder mystery I spent a weekend writing on my mother's typewriter in a corner of our basement. (I'd just read Agatha Christie's And Then There Were None) I don't remember a ton of details, but I'm pretty sure one character died from poisoned cereal.
Has there been someone in your life who has profoundly influenced your writing?
I have a wonderfully supportive network of family and friends, and a long line of teachers and bosses that I owe for never busting me for writing stories when I was supposed to be doing other things, but the person who had the most profound influence on my writing is someone I've never met. In the seventh grade, I stumbled across the work of author Ellen Emerson White in my school library. The way she constructed story and character, and specifically character voice completely altered the way I write. Though she hadn't meant to, she helped me become a better writer, and for that I'll be forever grateful.
The Book
Effigy is the first book in your Coileáin Chronicles, with the three following books currently in the process of being written. You describe it as a sword and sorcery fantasy series, focusing on three sisters and their epic struggle between good and evil.
Was there a particular thing that inspired the idea for this book?
I was probably twelve when my mother bought me a trio of books she had found in our local bookstore. They were the first three books in a series called The Secret of the Unicorn Queen, about an ordinary teenaged girl who is magically transported to a parallel universe filled with magic, unicorns, and a band of warrior women. It was totally my thing (it still is my thing) and it led me to write my first fantasy story. Many, many moons and many, many incarnations later, Effigy came about. Thanks, mom!
You have a soundtrack link on the book info page. How important is music to your writing process?
It's become very important, actually. I have a hard time working in a quiet room, so there's always something playing when I sit down to write. I have a playlist called "Mood Music" that's comprised of instrumental music (i.e., the Lord of the Rings soundtrack) I listen to when I need to get some serious writing done. Lyrics or not, music helps me reach the proper mindset for those tough scenes.
Do you create the soundtrack as you go, or does it exist when you start working on the book?
The soundtrack is most definitely created as I go. It's actually how I know I'm getting serious about a project. Sarah McLachlan's song, Do What You Have To Do, was the very first track on Effigy's soundtrack.I heard it on the radio one day while at my day job, and the lyrics and the mood just perfectly fit a scene I was working on at the time. Other songs followed, and the soundtrack idea was born.
Where to find M.J. and her work:
Blog: http://mjfifield.blogspot.com/
Website: http://www.mjfifield.com/
Book Direct link: http://www.mjfifield.com/books/effigy/
Twitter: https://twitter.com/MJSaysWhat
Facebook: https://www.facebook.com/MJ-Fifield-283392701681234/
(Cross posted on Ravings by Mirintala)
---
Writing with Others
Posted on February 24th, 2016
By Mirintala
Writing, for the most part, is a solitary activity. Sure, there's Twitter and writing groups, but at the end of the day it's usually just you, alone with your imagination. There are times though, that we write with others. Co-writing can be incredibly rewarding and insanely frustrating. Like everything with writing, there is no one way to do it.
Growing up, in my early days on the Interwebs, I belonged to several written RPG sites. One of the things you learn from that type of interaction is how to passably write someone else's character. If you can't manage that skill, you're either faced with incredibly short posts where you're constantly waiting for the other person to respond, or backlash from using their character in a way they do not like. One way to develop that ability was to start with those super short posts. Another is to work things out "in person" before the post with another player. A friend and I would meet on ICQ (wow, that was ages ago) and go back and forth to figure out what was going to happen. Then one of us would copy everything out and embellish before posting. This resulted in some very long posts, and a good sense of how the other person's character would respond to a given situation.
When it came to writing with this person later, we did much the same. We sat down and discussed the characters and walked through bits of the story, one of us taking notes to type up later. Other times, one of us would start the story and when we got stuck, would pass it to the next person (for an example of this "pass the stick" type story telling, check out the Once Upon a Time episode of the Tabletop show on YouTube). As drafts progressed we would each read over what the other had written and make changes before we picked up. Sometimes you work on a chapter by chapter basis, passing it to the other person when you hit that stopping point.
Other times, each of you makes a character to focus on, and write the parts where that character is key, or their perspective is being followed. This can add some disconnect between the two characters, and if that different feel is not what you're looking for, you should definitely have both writers go through each other's section to help being the sections together. One of the big challenges is making it feel like one work at the end and not two separate stories.
With a recent project, the other writer and I are slowly hashing out the details and making an outline. We settled on a basic premise, then sorted out characters and places (because talking back and forth about "character A" can get confusing, and names are easy enough to change later). We'll decide where to go from there, but probably whoever is feeling most inspired will start.
So what kind of problems can you run into when writing with another person? Well, really any of the problems that come up in any relationship on top of the typical writing problems. There will be times you disagree; sometimes about small things and sometimes about major plot points you can't progress past until you agree. There will be deadline clashes as you learn that you write at different speeds and when someone loses steam to dreaded "writer's block" or life throwing complications. When it comes time to edit, you will both have different darlings you won't want to kill. There will be times you're tempted to bargain, "leave my bit here in and we won't cut that bit there of yours" but you must focus on what is best for the story. It is a good plan to know ahead of time what your plans are for the story as well. Is it just for fun? Are you submitting it somewhere with guidelines to follow? Are you self-publishing it and how are you handling that? If you're creating a new world, are you allowed to use it later in your own works? Sorting this out ahead of time can save on heartache later.
So why write with someone else? For one, it can be really fun exploring ideas together. You'll be able to see things from another perspective and grow for your own writing. Perhaps you have trouble with one aspect, such as dialogue, but thrive at another, and your partner has the opposite problem. There is always more to learn. There is a great deal of joy in sharing the process with someone, and in seeing that final creation that you made together. It can make for a very strong, multi-faceted story.
What are your experiences in writing with others? Is it something you want to try, but haven't yet? What's stopping you?
Further reading: Mirintala and Shadicats talk about writing together
(Originally posted on Just for Button: The Blog, precursor to Ravings by Mirintala)
---
Manifest Reality
Posted on February 13th, 2016
Here at Lemorn, we want to see books make it in the hands of readers. To that end, we are happy to share information on releases from fellow publishers. Two of our writers are in a new antho releasing this Valentine's Day!

Release: February 14, 2016
Title: Manifest Reality
Publisher: Hair Brained Press
Editor: Jessica West
Everyone is looking at you funny, right? RIGHT?! They are, they're looking at you out the corner of their eyes, plotting against you. The whole world, they're out for you. Aren't they?
He wanted this. You know he did. He said forever, didn't he? Well, maybe he didn't say it, but you could tell he thought it by the way he smiled at you while you checked out with your newest batch of steamy romance novels. The way the light shined off the spikes of his hair while he tried to sell you a discount card, you could tell he wanted to spend eternity with you. That struggle? That wasn't a struggle, he was just playing hard to get. All the other boys did that before your special potion too, but this time will be different because his smile said forever.
Manifest Reality is a collection of sanity-bending short stories with one single, tenuous thread connecting them:
It's all in your head.
Will be available on Amazon only
Ebook: http://www.amazon.com/dp/B01AZ10990
---
Book Release: The Book of Counted Wonders and Musings
Posted on December 27th, 2015
The Book of Counted Wonders and Musings
Lemorn Literary Works has released its first poetry eBook by self confessed reluctant poet Christine Forshner. The book became available on Smashwords upon its stealthy Christmas Eve 2015 release, and will soon push out to other eVendors.
The book is a collection of poetry written over the last twenty years, and is filled with with whimsical fantasy and dark, emotional verse. The cover was drawn by Shadicats (www.shadicats.com) and a forward provided by Kristin Hayworth (govneh.com), with an author afterword at the end. You can purchase the book for $0.99 at https://www.smashwords.com/books/view/602840
Interested in a review copy? Contact asylos at lemorn dot com
ABOUT THE AUTHOR
Christine Forshner
Writer. Editor. Gamer. Pharmacy Technician.
If archeologists going through boxes in her parents' basement can be believed, Chris has been writing legible stories since being shown how to make letters. She began editing in school while "helping" with others' homework and the mental red pen never quits. (Not even ads are free of its glare.) She is an avid gamer (both tabletop and video), reader and writer outside of a day job as a pharmacy technician specialising in reports. Tools of the trade: iPhone with Pages. Find her at: Tumblr and Twitter. Her other works can be found on Smashwords.
---
Book Release: Next Year, Things Will Be Different
Posted on June 30th, 2014
Next Year, Things Will Be Different
Lemorn Literary Works is proud to announce the release on June 30th 2014 of our first young adult collection. The book contains stories by three writers, two who are giving us the privilege of releasing their first work for publication. (Both have written for many years but haven't taken this exciting step.) http://www.lemorn.com/books.php#NYTWBD2
You can pick up the book at Smashwords and it'll push to other eVendors shortly. https://www.smashwords.com/books/view/453519
Book bloggers interested in a complimentary copy to review can contact asylos@lemorn.com
Next Year by Tyramir Ross (Words: 7,087)
Walker may not have finished high school yet, but he and his team are certainly finishing off every one of the G'laek they can. Now they face one of the oldest and most powerful of the ancient demons they have encountered. Can Walker use the power granted to him in Quellios of the Rising Waves, the great staff that conjures fire, as well as his own brains to save himself and his friends?
Illusion of Choice by John Biscarner (Words: 5,342)
When given the chance to have everything your heart desires, what would you ask for? Many of us have thought of what we would ask for, but have we ever really thought about the consequences of said wishes? Darren, a young teen, has been asked a simple question: "What do you want from life?"
The Garbage Man's Boy by J.C. Sayer (Words: 5,733)
In the 1950s, the small northern Ontario town of Mallieu was terrorised by a serial killer named the Ferry Man. Ron, the Garbage Man's Boy, navigates small town politics in the wake of these murders, finding hidden truths he probably shouldn't have found, while trying to protect the ones he loves from a terrible fate.
---
Upcoming Anthology
Posted on July 24th, 2013
We are currently working on a young adult anthology of four stories, introducing a pair of new authors along with the contributions of two of our long time writers. The book does not yet have a title, but has a fall release planned.
---
First Two Books Released
Posted on January 1st, 2013
We have released our first two books!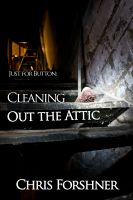 Just for Button: Cleaning out the Attic By Chris Forshner
A collection of short stories from the cluttered mind of Chris Forshner.
Available at Smashwords for FREE!
An Unclouded Moon by J. C. Sayer
Phy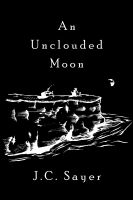 llis, a fiercely independent woman from across the ocean, tracks two vampires to a picturesque Canadian village on Bell Island, Newfoundland. With help from the local constable, can Phyllis hunt down the vampires in time?
Available at Smashwords for $1.99 USD
---