Book Release: The Book of Counted Wonders and Musings
Posted on December 27th, 2015
The Book of Counted Wonders and Musings
Lemorn Literary Works has released its first poetry eBook by self confessed reluctant poet Christine Forshner. The book became available on Smashwords upon its stealthy Christmas Eve 2015 release, and will soon push out to other eVendors.
The book is a collection of poetry written over the last twenty years, and is filled with with whimsical fantasy and dark, emotional verse. The cover was drawn by Shadicats (www.shadicats.com) and a forward provided by Kristin Hayworth (govneh.com), with an author afterword at the end. You can purchase the book for $0.99 at https://www.smashwords.com/books/view/602840
Interested in a review copy? Contact asylos at lemorn dot com
ABOUT THE AUTHOR
Christine Forshner
Writer. Editor. Gamer. Pharmacy Technician.
If archeologists going through boxes in her parents' basement can be believed, Chris has been writing legible stories since being shown how to make letters. She began editing in school while "helping" with others' homework and the mental red pen never quits. (Not even ads are free of its glare.) She is an avid gamer (both tabletop and video), reader and writer outside of a day job as a pharmacy technician specialising in reports. Tools of the trade: iPhone with Pages. Find her at: Tumblr and Twitter. Her other works can be found on Smashwords.
---
Book Release: Next Year, Things Will Be Different
Posted on June 30th, 2014
Next Year, Things Will Be Different
Lemorn Literary Works is proud to announce the release on June 30th 2014 of our first young adult collection. The book contains stories by three writers, two who are giving us the privilege of releasing their first work for publication. (Both have written for many years but haven't taken this exciting step.) http://www.lemorn.com/books.php#NYTWBD2
You can pick up the book at Smashwords and it'll push to other eVendors shortly. https://www.smashwords.com/books/view/453519
Book bloggers interested in a complimentary copy to review can contact asylos@lemorn.com
Next Year by Tyramir Ross (Words: 7,087)
Walker may not have finished high school yet, but he and his team are certainly finishing off every one of the G'laek they can. Now they face one of the oldest and most powerful of the ancient demons they have encountered. Can Walker use the power granted to him in Quellios of the Rising Waves, the great staff that conjures fire, as well as his own brains to save himself and his friends?
Illusion of Choice by John Biscarner (Words: 5,342)
When given the chance to have everything your heart desires, what would you ask for? Many of us have thought of what we would ask for, but have we ever really thought about the consequences of said wishes? Darren, a young teen, has been asked a simple question: "What do you want from life?"
The Garbage Man's Boy by J.C. Sayer (Words: 5,733)
In the 1950s, the small northern Ontario town of Mallieu was terrorised by a serial killer named the Ferry Man. Ron, the Garbage Man's Boy, navigates small town politics in the wake of these murders, finding hidden truths he probably shouldn't have found, while trying to protect the ones he loves from a terrible fate.
---
Upcoming Anthology
Posted on July 24th, 2013
We are currently working on a young adult anthology of four stories, introducing a pair of new authors along with the contributions of two of our long time writers. The book does not yet have a title, but has a fall release planned.
---
First Two Books Released
Posted on January 1st, 2013
We have released our first two books!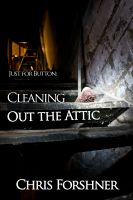 Just for Button: Cleaning out the Attic By Chris Forshner
A collection of short stories from the cluttered mind of Chris Forshner.
Available at Smashwords for FREE!
An Unclouded Moon by J. C. Sayer
Phy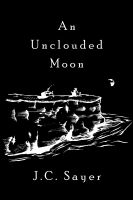 llis, a fiercely independent woman from across the ocean, tracks two vampires to a picturesque Canadian village on Bell Island, Newfoundland. With help from the local constable, can Phyllis hunt down the vampires in time?
Available at Smashwords for $1.99 USD
---